We can do it. Really well.
You need turned or milled parts manufactured to the highest level of precision? Just ask us! We have a
certified quality management system
and provide tailor-made pieces according to your requirements.
You would like a convenient, all-in-one production of your components? Gladly. We will provide you personal consultation. In addition, we also assume the
complete and smooth execution
of your order. Whether this is high-precision turning of CNC parts, or further processing by means of wire EDM, laser cutting, electro polishing, gear cutting, drilling, sawing and grinding, and right up to heat treatment and surface coating. We are here for you!
We will provide you with comprehensive advice to support the success of your business. State-of-the-art machines with a constant level of high precision and component quality are your guarantee of
economic production
.
Your company can rely on our many years of experience as well as our extensive expertise in CNC job order production. This ensures that your CNC-machining requirements and wishes are optimally implemented.
Harry Roth provides you with all the methods required for the
high-precision machining of metal parts
. All products are manufactured according to the individual requirements of your company. We
machine finish
your components to your requirements to ensure they are also provided ready for installation.
Competencies. Core competencies.
Simple or complex CNC turned parts
, or precision turned parts with small and large diameters of up to 300 mm - the modern machine park of our turning shop can do all this. Likewise, it also provides economic production of
multi-spindle turned parts, plain turned parts, short turned parts, finely turned parts and chuck parts
. Ready-made workpieces up to 100 mm diameter are machined by multi-spindle turning. Thanks to our CNC multi-spindle turning and milling centre, we are able to machine complex parts from three sides at the same time, and within very short cycle times. Multi-spindle turning enables highly efficient manufacturing of production lots from 20,000 right up to 10,000,000 pieces per year.
The residual piece length remains minimal, and the multi-edge and profile material is optimally utilized. What sizes can our turning shop machine? In the area of
plain turning
, the maximum bar capacity is 32 mm, and part lengths can be up to 500 mm. For
short turning
, diameters of 65 mm and part lengths up to 400 mm are possible. We can provide
fine turning
with fits up to 0.005 mm and maximum concentricity tolerances of up to 0.01 mm. Finally, on the
chuck lathe
, we can clamp workpieces up to 300 mm in diameter and 500 mm in length. Even longer parts are possible with the appropriate geometry.
Milling is a rotating-tool chip-removal manufacturing process. When turning on the other hand, the workpiece rotates around its own axis. As we are a
shop for job milling
, we manufacture high-quality CNC milled parts. The maximum workpiece size is
1000 x 800 mm
. Just as in turning, the materials titanium, aluminium, brass, steel, stainless steel and bronze, as well as special materials can all be used. We cut on state-of-the-art five-axis machining centres. The traversing distances on the X, Y and Z axis are 600, 450 or 450 mm respectively.
The proverbial last finishing touch to the surface of your CNC parts is done by means of high-precision grinding. This facilitates better surface quality and higher precision than when using a machine cutting process. Harry Roth offers you a
wide range of grinding processes
. These include intermediate point grinding, internal grinding, honing and lapping.
Always up-to-date: our machine park
Our turning and milling shop has state-of-the-art machinery such as CNC lathes, CNC machining centres, 5-axis milling centres and milling machines. Their manufacturers are the "Who's Who" of the industry: Index, Buffoli, Nakamura, Deco, Gildemeister, Manurhin, Schaublin and Mikron. In addition, we have state-of-the-art grinding machines for surface grinding, plunge grinding, through-feed grinding, internal and external grinding, as well as cylindrical grinding and Trowal burring. We assemble the modules according to your custom specifications. Our service includes surface coatings and heat treatments by certified partners.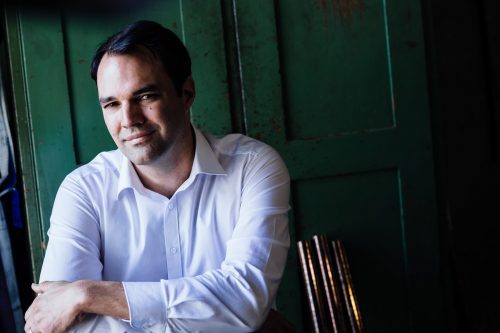 Your Robert Bischoff (Managing Director)
Convince and inspire with a wide range of qualities
"Of course, the core issue is the maximum quality of our CNC parts. However, combined with competent advice, efficient production processes and punctual delivery, our customers benefit from a comprehensive package with which we convince and inspire you anew for each project. It is no wonder that we have so many long-term customers. Let yourself be inspired too!"
Turning shop Harry Roth: We manufacture your turned parts and milled parts to measure
Are you looking for a turning shop that machines turned parts and milled parts economically and at the highest level of precision? Harry Roth is the answer. As a well-known company within the metal processing industry, we bring to the table many years of experience and the highest level of competence in the turning, milling and grinding of high-quality CNC parts. Our customers include global companies from within the automotive, mechanical engineering, drive technology, sensor technology, pneumatics, hydraulics, medical technology and aviation industries.
Our CNC job order production portfolio covers all services in the production of batch size serial parts. We can machine quantities from 1,000 to 10,000,000 pieces. High-precision CNC turned parts with diameters ranging from 1 mm to 300 mm can be produced. We machine CNC milled parts up to a workpiece size of 1,000 x 800 mm. We can manufacture your products from all machinable materials, including titanium, aluminium, brass, steel, stainless steel and bronze. Special materials can also be processed.
We meet our 100% quality standards through the use of state-of-the-art machinery and high-performance measurement technology. We therefore guarantee perfect components according to your requirements.
For every need: Services and materials
If you want to have high-quality parts turned and milled from aluminium, brass, titanium, stainless steel, bronze or special materials, you've come to the right place! We have the experience, the machines and the expertise. With us, your requirements for metal contract manufacturing will be met one hundred percent. With 100% certified quality.
Titanium is a
lightweight metal with very high tensile strength
. It also has outstanding corrosion resistance as well as biological compatibility. Often, titanium is used as a replacement for stainless steel, namely always when higher strength is required. The wall thickness of components can then be reduced without any loss of stability. If the dimensions remain the same, you can maximize rigidity with titanium. It is important to note when using titanium that strain hardening occurs when machining, and this can be a disturbance during metal removal. Strain hardening can cause the tool to quickly become blunt; this happens when the friction becomes too great due to the low feed rate of the cutting edge. Therefore, high-quality titanium CNC parts require sharp tools as well as the appropriate feed rate, and also ideal chip formation and correct tool hardness. Complicated? Just leave that to us! We will produce your titanium parts economically and in top quality.
Crucial for
aluminium turned parts
are the properties of the underlying alloy. The cutting speed must also be set correctly. The cutting speed depends, among other things, on the following factors: tool quality, aluminium alloy and turning machine.
Aluminium milled parts
are produced at high speeds. Just as when turning aluminium, the strength of the material is crucial to the result. An optimum milling result can only be achieved by the choice of the right aluminium alloy and the right milling head. The milling head must be optimally adapted to the material it is to cut. When milling aluminium, the decisive parameters are the diameter of the cutter as well as the number of cutting edges, which are adjusted to the strength of the aluminium alloy. A single-point cutter is used on soft aluminium materials. We use twin-bladed tools for medium-hard alloys and triple-bladed tools for hard material.
An alloy of copper and zinc is called brass. The zinc content in modern brass alloys is usually several percent. 50-60 brass types are used in metal processing. Virtually all the desired properties can therefore be represented. In order to achieve
better machinability
, lead is added to some brass types. These types are used as free-cutting brass or machining brass for the machining of red brass and standard brass. The areas of application for brass include plain bearings, bushings and shells, as well as gears and fittings. At Harry Roth you will find the complete range of
CNC parts in brass
- from a single source.
The
most common method of metal processing
is the cutting of steel. The low carbon content of steel means there is a tendency of the steel to stick to the cutting edge of the blade. Such steels form long ribbon chips that can get caught in the machine. The results are low cutting forces as well as a decrease of the surface quality of turned and milled parts. There is no problem with bonding when there is medium carbon content. Here the cutting forces increase, and turned- and milled part surfaces are better and the chips are shorter. A disadvantage is that the tools wear out faster. This is very clear for steels with high carbon content; the reasons for this are the high forces and temperatures. However, surface quality and chop breaking are good. In summary, one can say that soft steels are good for machining, while the use of tempered or hardened steels result in high wear and tear. They require expensive tools made of cutting ceramics or boron nitride. We at Harry Roth produce
CNC parts from different steel alloys
for you.
Compared with conventional steel, CNC parts made of stainless steel have some advantages. Stainless steel is characterised by wear resistance, temperature resistance, and resistance to corrosion as well as its special hygienic properties. However, the machining of stainless steel requires a good deal of
expertise, experience and instinct
. Certain varieties of stainless steel are very mechanically stable. Special attention must therefore be paid to the heat generated during machining, and to the supply of coolant. If you want to
machine stainless steel
, low cutting edge angles must be used. This prevents heavy burr formation. When high cutting forces occur, we use tool geometries with optimum cutting edge stability. If you want to
mill stainless steel
, you are confronted with similar problems for turning parts made of stainless steel. We use stainless steel alloys with suitable mechanical stability for milling. In addition, we also use durable cutting tools and special cooling liquids.
The oldest man-made metal alloy is bronze, a mixture of tin and copper. The oldest evidence of bronze products dates from the millennium before Christ. Bronze has many good characteristics: It is corrosion resistant, wear resistant and water resistant. In addition, it provides good spring and gliding properties and has high fatigue strength. Bronze is often used in the
manufacture of transmission and pump parts
. Bronze is virtually indispensable in mechanical engineering, where it is used in cylinder liners, glands and highly stressed sliding connections. The more tin bronze contains, the higher the demands on surface quality and hardness. We at Harry Roth make high-quality
workpieces made of suitable bronze alloys
for you. You decide on the quality.
In addition to the above-mentioned titanium, aluminium, brass, steel, stainless steel and bronze, we also machine special materials. We manufacture high-quality components including
aviation steel, stainless steel
, ua11n, 15-5PH and 17-4PH.
Well-known companies: we supply these industries with high-quality CNC parts
At Harry Roth, you will find the CNC parts you require for your application field - no matter whether this be automotive, mechanical engineering, drive technology, sensor technology, pneumatics, hydraulics, medical technology or aviation. You benefit from our know-how and the efficient production processes that we have optimized as a turning and milling shop over many years for a wide range of industries. We understand what you need; with us you always first receive extensive consultation. In the shortest possible time, you and your company will receive tailor-made parts of the highest quality from us.
Quality management
Our integrated management system provides the framework for consistent quality assurance measures - across all business processes. Already in the offer phase, we identify potential risks and reduce these by implementing appropriate preventive measures. We verify whether the necessary measuring equipment is available for production, or if it needs to be procured for the specific order. There are currently around 3000 calibrated measuring devices in our measuring equipment management system.
Quality assurance
Our competent and highly motivated professionals and their continuous training is a prerequisite for the qualified implementation and documentation of our operator self-inspection in all areas of production. For each order, we will create a test plan that specifies the severity level of the test and the measuring equipment to be used. We document first-piece inspection, production release and the operator self-inspection.
Naturally, we create SPC, EMPB or FAI to general standards or special requirements.
Certificates
The Quality Management System of Harry Roth is certified according to EN 9100 and ISO 9001. It meets the requirements of the Federation of German Aerospace Industries Association (BDLI). We are an approved supplier according to QSF-A and QSF-B, and have been supplying the aviation industry for over 25 years.
The corresponding certificates are available for download in the sidebar on the right.